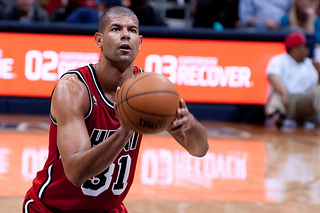 Finally—We Recognize the Other Side of Leadership
For years, we have read about national champions, most valuable players and top-level performers in every sport. Two years ago, the NBA chose to honor a different award winner — the best teammate.
Shane Battier called it one of the biggest honors of his life.
The Miami Heat forward was announced recently as the winner of the league's Twyman-Stokes Teammate of the Year award, which recognized selfless play, leadership, work as a role model to other players, and commitment. The NBA will make a $25,000 donation to the Battier Take Charge Foundation, which raises money to help provide children with educational and leadership opportunities.
You should know that Battier was the runaway winner this year, being elected by votes from players who are not currently on his team. He showed up on over 200 ballots. Evidently, everyone sees these qualities in Shane.
Two Things I Love
I love two realities about this award. First, I love the fact that a professional organization like the NBA actually recognizes these attributes as worthy of affirmation, setting an example for boys who are glued to ESPN and the NBA.
Second, I love the fact that the award connects leadership to something besides being the player who scores the most points. While I fully recognize we must measure points — it's how games work — there will only be one player each year who scores the most. In fact, if that's all that mattered, leadership could be viewed as a purely selfish thing: "Do-whatever-it-takes" to hog the ball and make the basket. Instead, Shane Battier demonstrated he could help his team win a championship this year by playing for something other than the most points, most rebounds, most free throws, etc. No doubt Shane buys into the statement by legendary Coach John Wooden: "The player who puts the ball through the hoop has ten hands."
Battier said after receiving the award: "Although the guys in my locker room couldn't cast any votes for me, I'd like to think they would've voted for me if they could," Battier said. "I hope they know that I love them, and I appreciate them and in everything I do — I try to make that locker room better and this team better."
Contrast this attitude with Allen Iverson, the NBA superstar who a few years ago said in an interview, "Practice? How can I make my teammates better by going to practice?" Ugh. Mr. Iverson, you still have so much to learn about leadership… and a lot of maturing to do.
Five Truths This Award Teaches Us About Leadership
Leadership is about team progress, not personal statistics. The cliché is true: It's about the name on the front of the jersey, not the back of it.
Leadership is about doing the right thing when no one is watching, not just during a game or performance. Good leaders have pure motives.
Leaders lose the right to be selfish. They see the bigger picture and focus on the whole. Their measuring gauge: Did I make my teammates better?
Leadership begins with an attitude of service, sacrifice and passion. It is more caught than taught to others.
Healthy leadership always adds value and is never toxic. It works like the tide on the ocean: As it rises, all the boats go up. Leaders improve team culture.
Shane just announced his retirement from the NBA, saying from the beginning that he wanted to play for ten years and leave before someone asked him to do so. He ended up playing for 13 years, and may I just say — no one is asking him to leave. He will go out on top, in my book.
My hat's off to Shane Battier and the NBA for this award. May this become part of the sports culture as we impart what it means to lead the next generation.
Want to prepare athletes for excellence in sports and life? Check out Habitudes for Athletes.